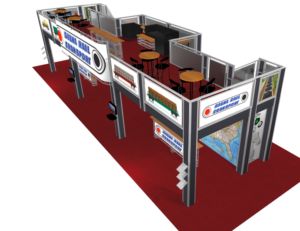 Double deck displays are the perfect way to make your exhibit stand out at a trade show filled with different businesses vying for attention. They provide more functional space, while simultaneously elevating your floor presence. There's no better solution for boosting your trade show success!
So, what exactly can you do with that extra level to your display booth? The possibilities are endless—but here are some captivating ideas to start with or help inspire you!
1) VIP Customer Experience Area
Make your interactions with potential leads feel more personal with a designated area for guests who are interested in learning more about your products or services. Show off a special product, give an exclusive demo, or hold a private consultation to give attendees a unique first-rate experience they won't forget!
2) Extra Product Display
Take advantage of the standout height you get with a double deck trade show booth by using it for highly visible product display. Set up a row of sample products, a marketing video on loop, promotional photos, or even a colorful banner to catch the eye right away! A prominent, striking top display is sure to make your exhibit stand out among the crowd.
3) Guest Lounge
Trade shows can get pretty big, which means attendees will quickly get exhausted walking around to look at all the offerings. Turn the upper level of your booth into a place where people can relax and catch their breath. Create a cozy seating area with bistro tables and chairs and provide some complimentary coffee or snacks for them to enjoy! It's the perfect opportunity to draw people to your booth, build relationships, and expose/pitch your products and services.
When it comes to your company's trade show needs, All Pro Displays & Graphics is your one-stop solution!
Our double deck display rentals are cost-efficient and of industry-leading quality. Plus, our expansive range of products will conveniently cover all of your other exhibition needs. Give us a call at 888-467-7696 to learn more about how we can take your trade show presence to the next level!