Showing all 10 results
With over a dozen years of experience as a distributor for an industry-leading Double Deck display manufacturer, we are your source for unique, extremely fast yet cost-effective solutions.
We offer turnkey rental solutions nationwide, as well as new display sales.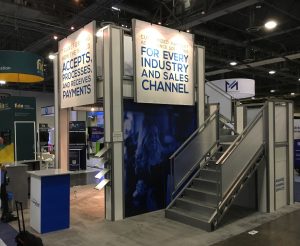 Extensive inventory in Las Vegas and both Northern & Southern California
Professional I&D teams provide you with a worry-free alternative.
All our Double Deck Displays are pre-approved with convention facilities across the nation.
Show us a qualified lower price for any of the two story displays we offer, and we will beat that price, guaranteed.
Additionally, we offer a complete line of accessories, including furniture, greeting counter, storage counters, lighting as well as professional graphic design and the production of custom graphics on a variety of substrates.
Benefits to Partnering with All Pro Displays & Graphics       
Our experience, and a simplified process allows us to ensure we commit to the quoted amount without risk of add on costs.
We partner with you to ensure the display meets or exceeds the functionality in advance of your review on the show floor.
As a special bonus, all graphics we provide are delivered to your show, and installed at no additional charge.
We offer you one year of storage for your rental's graphics at no charge with your rental.
All ceilings are finished – no visible structural elements. We include adjustable track lighting.
Stair and railing panels are frosted acrylic with available custom printed hard panel graphics.
Our double deck displays provide a 9' ceiling height – Superior to low-quality alternatives.
Optional accessories include:

Graphics
Kiosks
Smart TVs / Touchscreen
Computer monitors and keyboard shelves
iPad mounts
Furniture
Locking storage
Greeting counters
Slatwall
Showcase
Mini refrigerators
Shelving & Hooks
all of these can be used to help us create your perfect solution.
Our Double Deck displays aren't limited to a few basic designs.  If your booth size is a bit unusual, we can craft a unique solution.  Booth sizes for a double deck display begin at 20×20.  Be it an island configuration, or peninsula, we'll help you make the best use of the space you have, while honoring your budget.