A trade show is a great opportunity for your business to connect with consumers, build relationships with other businesses, create brand awareness, and gain exposure! Many shows are filled with first timers who can become valuable new leads for your company. That's why it's important to differentiate yourself from the competition.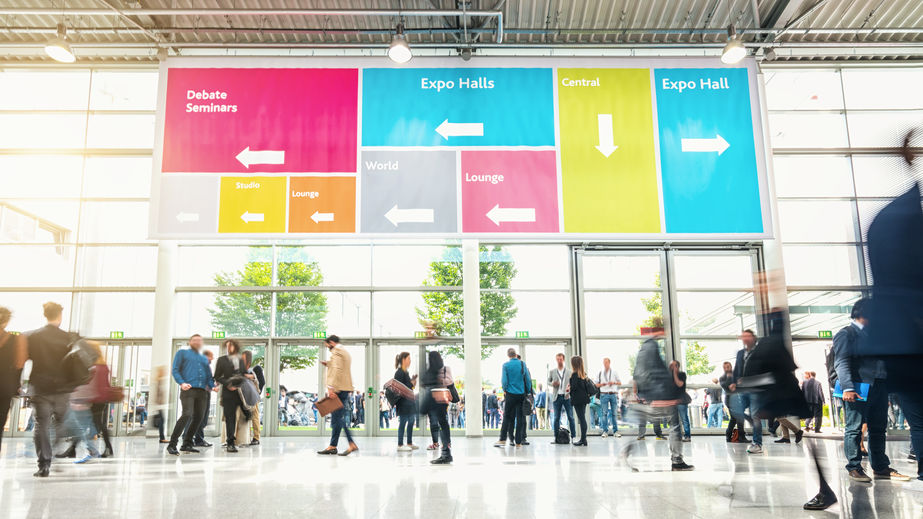 The key to a high return on investment from a trade show is to take the time to build an effective strategy and use the best resources available to implement it with your exhibit. Begin your planning with the following tactics in mind and your trade show exhibit is sure to facilitate profitable relationships and generate new business for your company!
1) Get people excited about your booth in advance.
Did you know that the average trade show attendee already has about 75% of the exhibits they want to visit selected before they even arrive? Make sure yours is on that list by letting people know where you'll be and what to expect.
Use outreach campaigns to get visitors involved ahead of time—let them vote on the free swag they want or book appointments in your portable conference room. Take advantage of the power of email and social media marketing to build suspense and hype up your exhibit!
2) Use a high-quality display to catch the eye.
Invest in a first-rate display to communicate a simple, but important message to trade show attendees loud and clear. Think about what you want people to remember. You have a very limited amount of time to make an impression on them—use it wisely!
Display your message with a striking, well-lit graphic on the back wall of your booth to draw your attendees in for more. You can even choose a fun and unique theme to show them you have something special to offer.
3.) Have fun—and make sure your attendees do too!
Create a unique and memorable experience for your attendees that will set your business apart from the dozens of others at the show! Be creative and come up with a game for people to play at your booth, send them on a scavenger hunt, or impress them with a fun gimmick.
Stay involved and interact with show goers. Encourage social media use with hashtags or photo op graphics. Get out on the floor to talk to people and make some noise!
Make the preparation process easy on yourself for your next trade show with the help of an expert company that can cover all your bases. All Pro Displays & Graphics is your one stop trade show solution for creating the best exhibit in the room! We offer unique, high-quality displays for rental or sale, professional and customizable graphic design, and anything else you need to make your booth unforgettable.
Contact us today to learn more about our wide range of products and friendly, expert services!