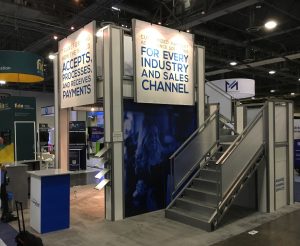 Every company at a trade show has a shared goal of standing out among the competition to attract the most visitors that have the potential to turn into profitable customers. If you want your organization to leave a lasting impression on attendees, you're going to have to make sure your exhibit offers them something unique!
A double deck trade show display is the perfect way to elevate your presentation, space, and prominence in a room full of adversaries vying for the same attention. Check out some of the other distinct advantages of investing in one of these elite displays for your next trade show!
Get more space for a lower cost.
More usable space in your booth equates to more flexibility for your business and opportunity for your potential customers at a trade show. Your first instinct may be to increase your floor space, but adding ground-level square footage is not your only option. When you build up instead of out, you secure yourself a larger booth for a lower price! Plus, you won't have to buy any additional show space either.
Augment your floor presence.
When someone walks into a trade show and scans the room, a double deck booth is going to be the first one they notice. Use this high visibility to stand out among the crowd and attract attendees to your exhibit. A double deck display has a commanding presence that makes your company seem important, knowledgeable, and high-profile.
Give attendees a unique and memorable experience.
Use the second level of a double deck display to make trade show attendees feel like they're getting exclusive access to your services and products. Separating them physically and mentally from the rest of the show allows customers to fully immerse themselves in your company. This distinguished upper level can be used as a private area for conferences, appointments, product demos, sales, and more!
At All Pro Displays & Graphics, we offer cost-effective trade show solutions that will help take your exhibit to the next level. Our first-rate double deck displays are available to rent or buy, along with an extensive inventory of accessories and professionally designed custom graphics. Contact us today to get everything you need for your next trade show in one convenient and experienced place!