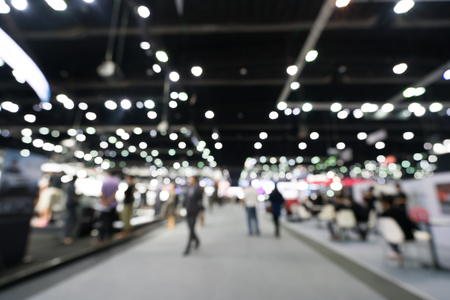 As you're preparing your exhibit for your next trade show, there are a lot of factors to keep in mind if you want to produce the most effective display. Of course, you'll need to start with the foundational elements of your booth such as your graphics, furniture, tabletop displays, and the fixtures themselves.
You might be surprised to learn though, that one of the most important features of your exhibit is not always the first to come to mind—lighting! Display booth lighting is a very powerful tool for determining how people experience your exhibition at a trade show. So how does it ultimately impact your success?
Use lighting to create focus.
When creating your trade show display, your primary concern should be putting a spotlight on what you want people to pay attention to—literally. Illuminate your central message, logo, image, or product so attendees can easily find what it is you want them to remember about your company. Effective lighting is also a good way to catch people's eye as they walk by and draw in more visitors.
Set the tone of your exhibit.
Smart lighting techniques help create the atmosphere of your booth. Take control of how people feel while they're at your display with the right positioning, strength, and quantity of light. Have a bold message? Make things bright and flashy. Do you want potential clients to feel comfortable and relaxed while they interact with you? Use soft lighting to create the right ambiance.
Assure your booth is functional.
Even the most brilliant and attractive display can be ruined by a dark, shadowy location! Make sure you're covered in any situation by building quality lighting right into your booth. You need to be able to communicate your message clearly and easily to make a good impression.
Don't waste time running around trying to find everything you need to make a compelling and cohesive display in a bunch of different places. All Pro Displays & Graphics has everything you need to create an unforgettable trade show exhibit from start to finish.
Browse our wide range of products online or give us a call to secure the help you need to make an impressive custom display!